Poppy craft day
The next Poppy craft days are on Friday, 10 August, 14 September, 12 October and 9 November.

If you can knit, felt or crochet, you are invited to help make 5000 poppies for an installation to commemorate the WWI Armistice Day Centenary (11 November 2018). We have already received over 4000 poppies, so huge thanks to those who have given their time (and talent) towards this very special project.
If you need some help, or if you would just like to get together with other crafters and have fun making poppies together, Hawkesbury Central Library is hosting craft days on the second Friday of the month until 9 November. The sessions will run from 10am to midday, are free, with tea and coffee provided, and everyone is welcome, no need to book, just turn up (BYO hook and/or needles and yarn).

If you want to be involved but are unable to attend, you are welcome to make poppies at home. Patterns are available at both libraries, as well as the Museum and the Gallery. You can also go online to find patterns/designs of your choosing – any size, any shade of red – the only requirement is that the finished product be a Flanders-style poppy. When completed, just drop them off at the Library, Gallery or Museum by Friday, 26 October. Donations of red or black 8-ply yarn and small black buttons would also be appreciated. The Poppy Project began as a small personal tribute by two Australian women and has become an international phenomenon, showing respect for, and remembrance of, those who have served in all wars, conflicts and peacekeeping operations, their families and their communities.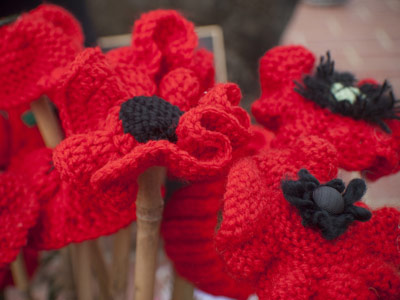 Page ID: 110419