Australia Day Awards
Mal Bobrige - 2020 Hawkesbury Citizen of the Year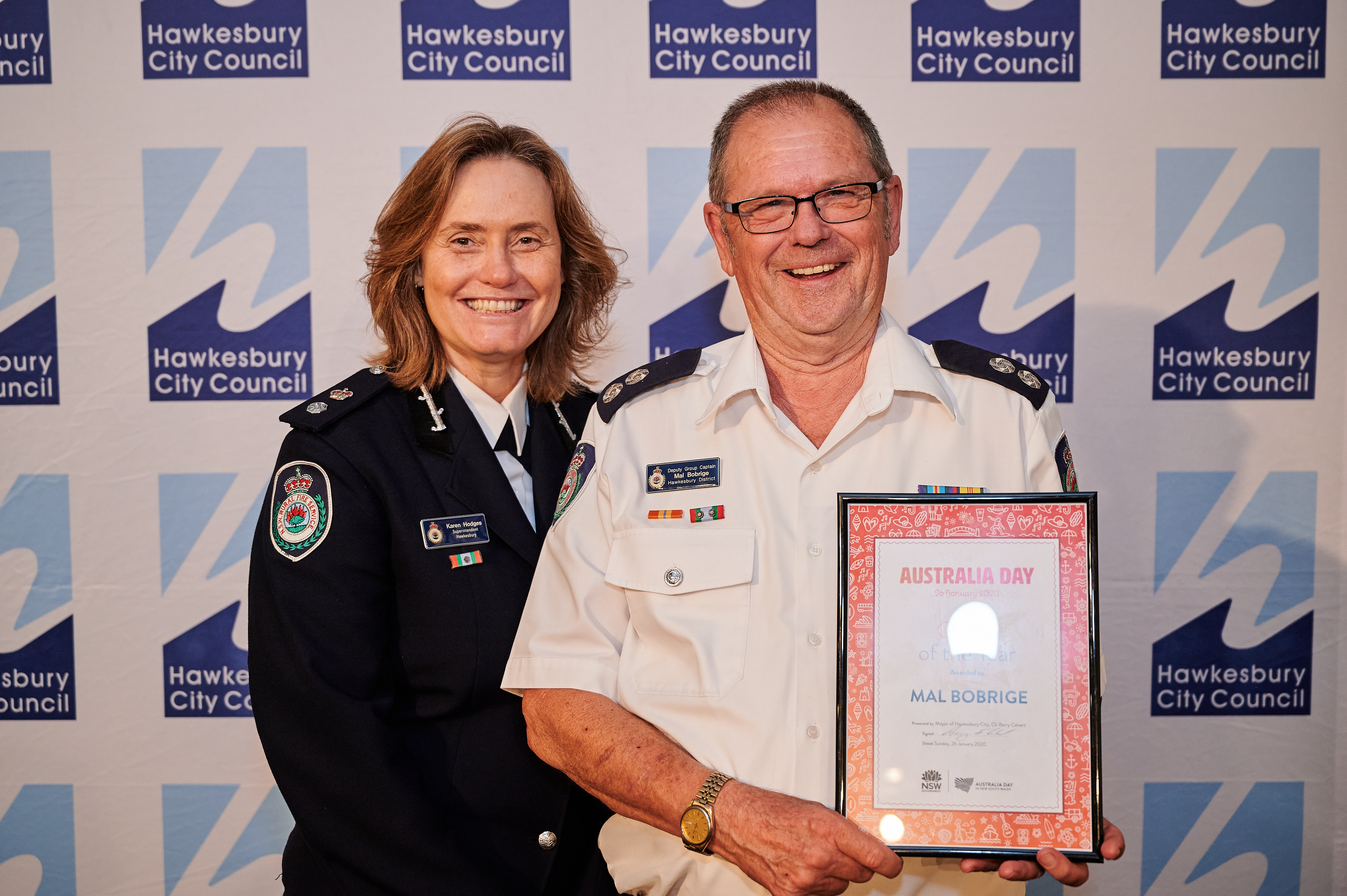 Mal has been a member of the Rural Fire Service for 39 years, 29 of them within the Hawkesbury area. When Mal moved to Kurrajong, he transferred his service to Blaxland Ridge Rural Fire Brigade. After moving up through the ranks and carrying out various roles and passing appropriate exams, Mal then became their Captain. He then decided to qualify to become a Group Officer which is a role he still holds today.
Mal's Career
Mal joined the Royal Australian Navy back when he was 15 years old, serving on destroyers, then submarines. He loved his time in the submarines, and travelling the world and making friendships which have lasted a lifetime.
1979 was a big year for Mal, he got married and making the decision to transfer over to the Naval Police, being stationed on shore at Garden Island Dockyard. After a time working in General Security at the gates he then transferred to the Training School. Mal loved being in the Navy, but after 21 years' service he decided to apply for the Security Managers Position at Concord Repatriation Hospital, which he was successful. Mal's last role before retirement was Environmental Services Manager, which he left in 2008.
Mal's Spare Time
At home Mal enjoys walking his dog and spending time with her. Four-wheel driving is a passion for Mal and travelling anywhere at any time is an interest for both his wife and himself. Apart from many overseas trips, they have been lucky enough to travel extensively throughout our beautiful country over the past 40 years.
Receiving the Citizen of the Year Award
As quoted by Mal "To be acknowledged for the 29 dedicated years of service in the Hawkesbury, and to be so appreciated was the best feeling in the world". Mal said "He can't thank his nominator and the Hawkesbury Council enough for this honour". When his name was read out as 'Citizen of the Year', he was completely shocked. It was so unexpected, and a total surprise. He said his legs wouldn't work, and that he actually had trouble getting up from my chair. He remembers shaking while he walked up onto the stage and was still shaking as he walked off.
Mal encourages you to Nominate a Mate
I know that there are just so many people and community groups that work tirelessly in our community, for our community, often behind the scenes, and it is so very important to acknowledge their efforts and express appreciation.
I would definitely nominate a person or a community group for the 2021 Australia Day awards if I thought they were worthy. There are so many people doing extraordinary things in our community and they all contribute in making the Hawkesbury a very special place to live and work, making it the best it can be.