Bosworth Street
Located in Bosworth Street, Richmond and within easy walking distance of public transport and the Richmond shopping precinct.
Hire Information
23 Bosworth St Richmond – Two spaces available for specific times on either a regular basis or for a single occasion.
Meeting Room: Size 8.9m x 4.6m Included – 6 tables, 30 chairs, Whiteboard, Air-conditioned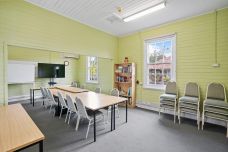 Tutorial Room: Size 7.5m x 4.4m – 4 tables, 15 chairs, Whiteboard, Air-conditioned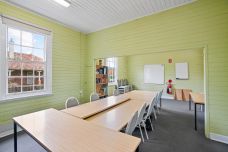 Also available (shared facilities):
Off street parking
Kitchen
Verandah
Male, female and disabled amenities
Note: The facility is not suitable for parties. It is suitable for meetings or small groups only.
Contact: Lorraine Turtle (Chairperson)
E-mail: lorrainet@iprimus.com.au
Phone: 0412 512 812
Location Map
Page ID: 54177