Oliver Carney - Observation in function
Observation in function
Oliver Carney
19 Jun – 15 Aug 2021
Blue Mountains ceramicist, Oliver Carney says he is driven to create works that reflect and interpret the moods, forms and experiences of the Upper Blue Mountains to a wider world. Carney has been creating pottery for only four years, inspired through his clay and glazes by the Blue Mountains bush.
"I think I understand the bush. I've lived here my whole life. You look at rock faces, then do a drawing of the bush and later that becomes a motif in a pot that … becomes very distant [from the original work]. Like these are not pots based on the waterfalls of the Blue Mountains but they probably are to an extent, just in the way you construct lines and forms."
He explored his creativity while completing a Bachelor of Product Design at UTS in 2018, learning how to make technology interfaces more human; though this left him wanting a more analogue life.
Carney longed to build and engage with materials directly and soon became interested in the tactile field of ceramics. With clay, Carney realised it was possible to combine utilitarianism with creativity. Having never studied ceramics formally, Carney taught himself techniques such as throwing and hand-building. The pieces on exhibition are all wheel thrown and assembled by hand; made from red stoneware, handmade glazes and fired in an electric kiln between 1260-1280 degrees. You can see components of Carney's design degree in this current body of work with its methodical design, disciplined craftsmanship and an engineering exactitude.
In this exhibition we experience the work of a young, self-taught artist who is industrious and inquisitive. Carney's approach to ceramics is a process of continually evolving shapes and forms to better enhance the functionality. Providing grand proportions to the humble bud vase or creating non-functional wall plates – he has studiously learnt the 'rules' so he can better disrupt them.
The young potter has also been acknowledged for his originality winning the Little Things Art Prize for ceramics in Sydney, 2018. It [Little Things] was the first ceramics competition I had entered… it's all about how you should enjoy the smaller things, Carney said.
Image: Oliver Carney Standing discus vase, stoneware, glaze 2020, Photo: artists own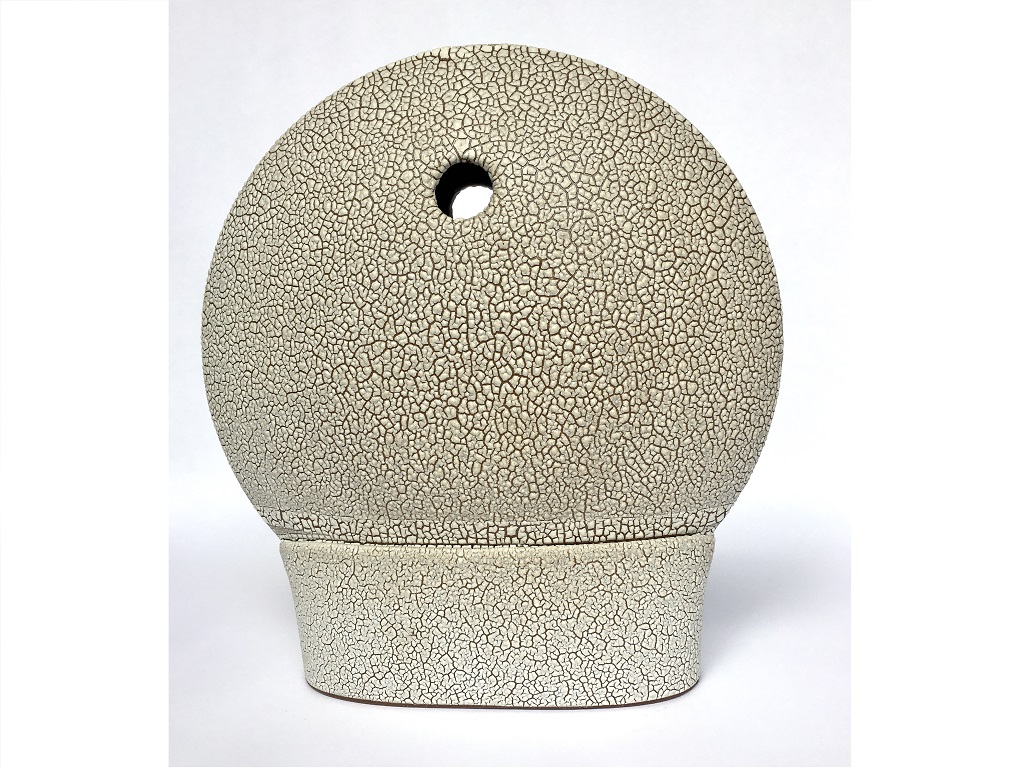 Page ID: 182012