Technology resources
The Hawkesbury Library Service provides the following technology resources:
Computers and internet
Due to Covid-19 restrictions the Hawkesbury Library Service has reduced public computers. Due to this limitation we have reduced the computer bookings to maximum of two hours per person per day at the Central Library and maximum of one hour per person per day at Richmond Branch Library.
Computers with internet access are available free of charge to members at both Libraries.
You must use your Library card to use the self-service computer booking system. For one-time only or short term users Library visitor cards are available. Fees apply.
If you have overdue items you will be unable to book a computer.
Bookings can be made for up to one hour, totalling up to three hours per day.
You are able to download but you must ensure removable devices are compatible and virus free. You must complete downloads before your session ends.
Users need to comply with the Library's Public computer and internet access and use policy (pdf - 97.5 KB).
Software on public PCs
The Library's PCs have the following software installed:
Microsoft Office 2016 (Word, PowerPoint, Publisher & Excel)
Web Browsers (Internet Explorer, Chrome & Firefox)
Paint.net – Image Editor/Creator
The Gimp – Image Editor/Creator
Audacity – Audio Editor/Creator
Free wifi
Free wifi (compatible with 802.11b/g/n devices) is available at both Libraries and their surrounds.
Bring your own laptop, tablet or wireless device and connect to the Internet free of charge.
Ensure your laptop or smartphone is wireless enabled.
For information on connecting your own laptop, tablet or wireless device to the Library wireless network please ask staff for details or read the instructions found on the password signs.
The Library takes no responsibility for wireless internet access, for technical problems or failure to access sites and software.
Users need to comply with the Library's Public computer and internet access and use policy (pdf - 97.5 KB).
Computer training
Please note that due to Covid-19, we have temporarily suspended Tech Help and Tech Savvy Seniors. We hope to resume these services in the coming months.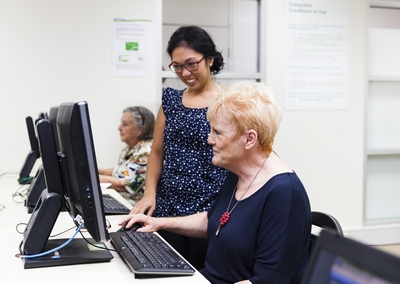 The Library provides free access to The Computer School - a computer training website that is available for use by Library members in the library and off site. You can undertake tutorials on computer applications, email, the internet and social networking at your own pace. Introductory computer training is also available for those new to using computers. For information or assistance please contact us.
If you have a tech enquiry or need a hand with a specific technology task, Hawkesbury Library staff can help you find the answer to your problem. A free Tech Help service is available at:
Central Library, Windsor every Wednesday 10-11am
Bookings are essential, phone (02) 4560 4465 to secure a spot.
The Library also runs computer classes periodically. For dates and times look at our What's On page.
The Library also provides various learn technology online opportunities. Please visit our Self-Directed Online Learning page for a complete list.
Photocopying, printing and scanning
A Library card is required for photocopying, scanning and printing in both libraries. For one-time only or short term users Library visitor cards are available. Fees apply.
Black & white and colour photocopying and printing, is available at both libraries. Fees apply
You can submit a print job through Webprint. The job will be able to be released from the printer when you get to the printer.
Self service scanning is free.
Please check the copyright restrictions displayed near the machines before copying.
Disc Cleaning
CDs, DVDs or Blu-ray discs can be dropped in at either Windsor or Richmond for cleaning with the Library's Disc Repair machine. The machine effectively removes light to moderate scratches, but unfortunately cannot repair cracked or chipped discs. Turn-around time is usually 1 week dependent on staff availability. Fees apply
Save power kits
Hawkesbury residents can learn how to save power and money at home by borrowing a Save Power Kit for free from Central Library.
The Save Power Kit contains tools and instructions that can help you find ways to save power, reduce your power bills and their impact on the environment.
The kits include a power mate to test the power use of appliances on stand-by like TVs and computers, thermometers to check the temperature and a stopwatch to time showers. The kit also comes with a guidebook and action plan to enable you to record results and plan improvements. For more information, visit the NSW Government Environment and Heritage homepage
Desktop magnifier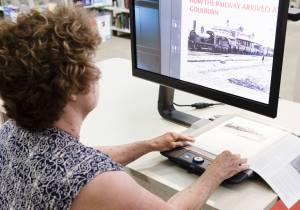 A desktop magnifier (or CCTV) is available in-Library (Windsor only).
The machine's large 24" screen, high range of magnification (up to x100), variety of colour contrast modes and a speech feature helps people with a vision impairment to easily read a range of documents.
Page ID: 74915