Celebrating Australian Citizenship Day 2022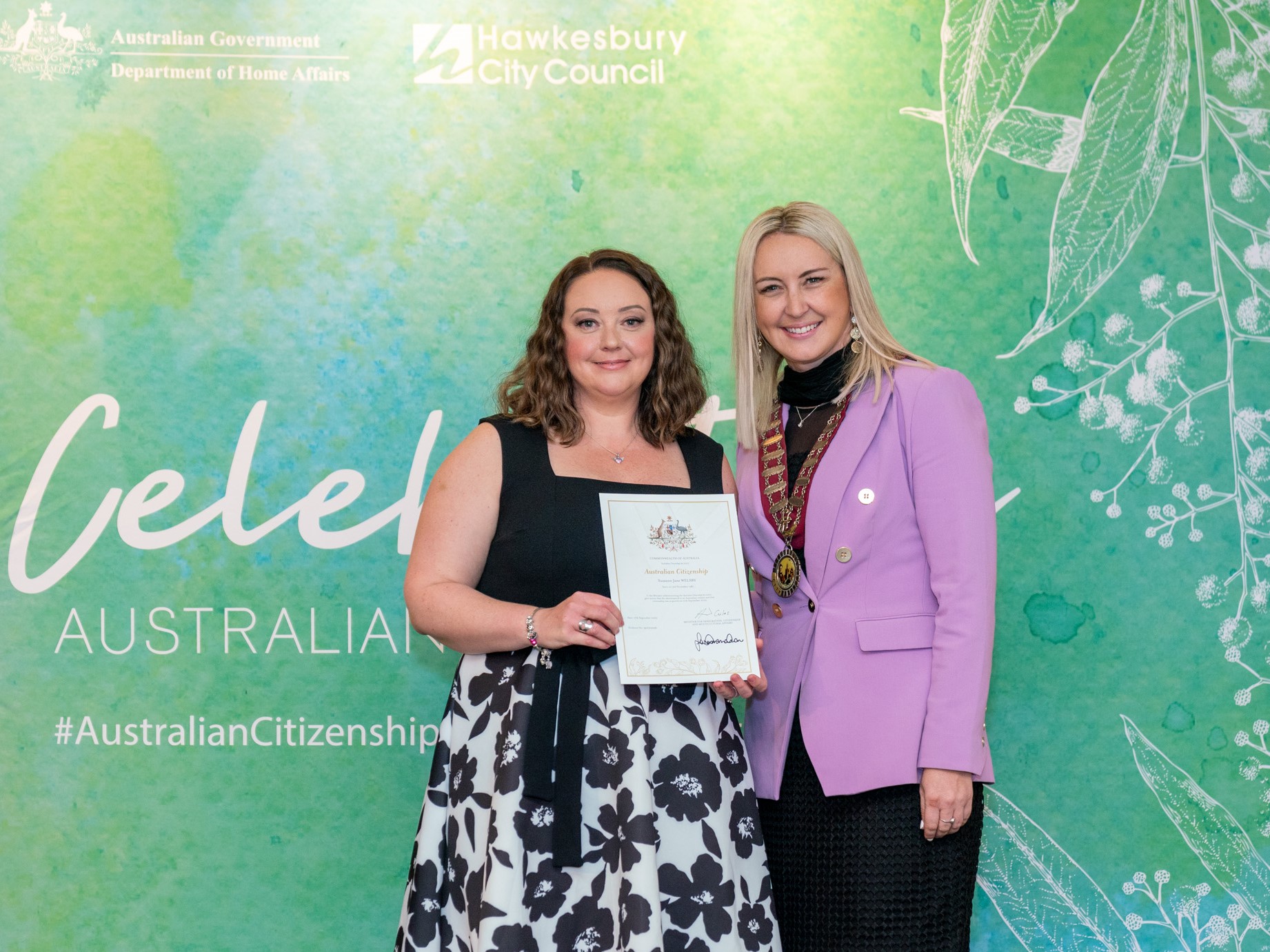 The Hawkesbury has welcomed 35 new citizens who came from a diverse range of countries: the Czech Republic, Peru, India, Sweden, Iran, the Philippines, the United Kingdom, New Zealand, Thailand, Cuba, Lithuania, Fiji, China, the United States of America, Nepal, Canada, France, India, Ireland and Bangladesh.
Hawkesbury City Council held the Australian Citizenship Day ceremony on Saturday, 17 September 2022 at Hawkesbury Regional Museum in Windsor, officiated by the Mayor of Hawkesbury, Councillor Sarah McMahon.
Darug woman Erin Wilkins performed the Welcome to Country and the Federal Member for Macquarie Susan Templeman gave a message on behalf of the Minister for Immigration, Citizenship and Multicultural Affairs, The Hon Andrew Giles MP, and a personal message.
State Member for Hawkesbury Robyn Preston, Group Captain Vincenzo Palmeri from RAAF Base Richmond and Local Commander Superintendent Garner, Hawkesbury Police Area Command also addressed the new citizens. Also in attendance were Deputy Mayor Barry Calvert and Councillors Eddie Dogramaci, Amanda Kotlash, Jill Reardon, Les Sheather, Paul Veigel, Danielle Wheeler and Nathan Zamprogno.
Australian Citizenship Day is celebrated annually on 17 September and is an opportunity for all Australian citizens, whether by birth or by choice, to reflect on the meaning and importance of their citizenship.
Mayor McMahon said receiving Australia Citizenship on Australia's national citizenship day would be a special memory for all.
"It's been wonderful to have a face to face gathering again with our new citizens for Australian Citizenship Day," Mayor McMahon said.
"Each year we are privileged to welcome new Australians as part of Australian Citizenship Day celebrations.
"This is a particularly poignant time for Australians, with the passing of our Monarch, Her Majesty, Queen Elizabeth II and the accession to the throne of His Majesty, King Charles III.
"I know we will remember these events as significant milestones in our lives and a time when we feel connected not only as a community and as part of the Commonwealth, but united with people around the world as we witness such momentous occasions.
"Whether we are citizens through birth or by active choice, Australian Citizenship Day is a chance for all Australians to take pride in our citizenship; celebrate our democratic values and think about what unites us as Australians."