Zero Barriers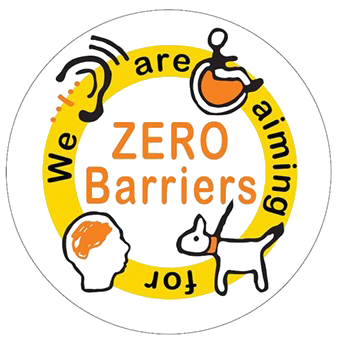 Hawkesbury City Council is a proud partner in the Zero Barriers project and are committed to promoting and supporting the inclusion of all residents, and visitors within the Hawkesbury region. We aim to encourage all initiatives that help towards making the Hawkesbury LGA more accessible for residents and visitors, and for people with disability.
Zero Barriers is a free business and service support project that aims to eliminate barriers for people with disability when shopping, using services or participating in activities in their local communities.
Hawkesbury City Council's collaboration with Zero Barriers will allow us to create a community in which all people regardless of their age, background, and ability, will feel supported.
Zero Barriers works with businesses and services to make small changes by:
Educating businesses and services about accessibility and inclusion barriers encountered by people with disability
Supporting businesses and services to become more disability friendly
Recognising and promoting businesses and services that are committed to eliminating barriers for people with disability
Officers from Zero Barrier's will be visiting businesses in the Hawkesbury region to support and discuss opportunities on how they can improve disability access to their business or service.
For more information, please feel free to send an email to zerobarriers@tmn.net.au or Rafa Zaim on 0432 813 197. Alternatively, you may contact Zero Barriers directly through their website.