Students engage at Council's School Leadership Program
Hawkesbury City Council recently hosted its inaugural School Leadership and Awareness Program, bringing primary school students to Council to learn about how local government operates.
Primary School students from St Monica's Catholic Primary School in Richmond (60 students), Glossodia Public School (four students), Macdonald Valley Public school (four students) and Kurrajong East Public School (20 students) attended the program at the Windsor Function Centre and participated in a mock Council Meeting in the Council Chambers.
The annual program was created by Council staff, which stemmed from a motion to Council a couple of years ago by the current Mayor, Councillor Sarah McMahon, with the aim to teach Year 5 and 6 students about the role of Council in the Hawkesbury community.
The students also learned about the three different levels of government – Federal, State and Local as well as the role the of the Mayor and Councillors as representatives of Hawkesbury City Council.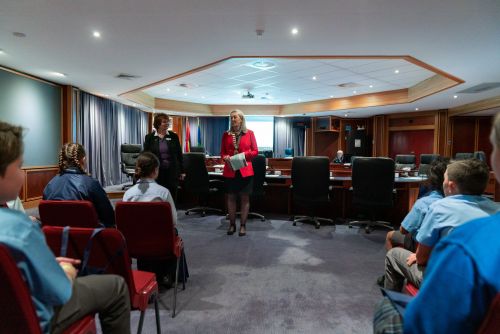 "It's been fantastic to have school students coming back to Council again to see how we do things and what's involved in looking after our community," Mayor McMahon said.
"The students rotated through three sessions and heard about the role of Council staff, the jobs that Council has in our local area, including Bushcare, Cultural Services and Community Services, as well as gaining an understanding of how we look after roads, rubbish, parks, pools and our libraries.
"I think they really enjoyed the mock Council Meeting in the Council Chambers where they got to role play being Councillors," she said.
"It was great to see all of the children actively participating in the program and asking questions. It is vitally important that children have this knowledge about what Council looks after, as well as how Local Government fits into the broader political environment."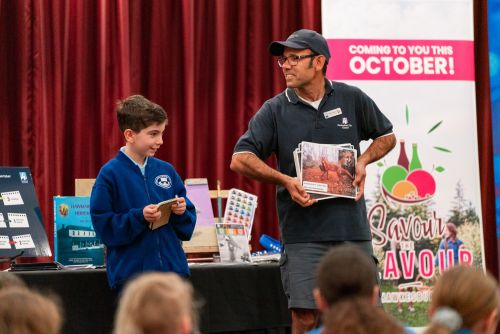 Students also heard that they could watch Council Meetings in person and on YouTube. Anyone who would like to see a Council Meeting as it happens can come along to the Council Chambers or watch it live on Council's YouTube channel (just search Hawkesbury City Council on YouTube).
Council meetings take place once a month with Councillors participating in the Council Chambers at 366 George Street, Windsor. The next Council Meeting will be held on Tuesday, 13 September 2022. While members of the public (who do not have COVID-19 symptoms or flu/cold symptoms) are now able to attend Council meetings in person, members of the public are encouraged to watch the live stream of Council Meetings. You can also subscribe to Council's YouTube channel.
To find out more about upcoming Council Meetings, dates, agendas and podcasts visit www.hawkesbury.nsw.gov.au/your-council/council-meetings-and-agendas