Fun and fireworks at Australia Day on the Hawkesbury 2023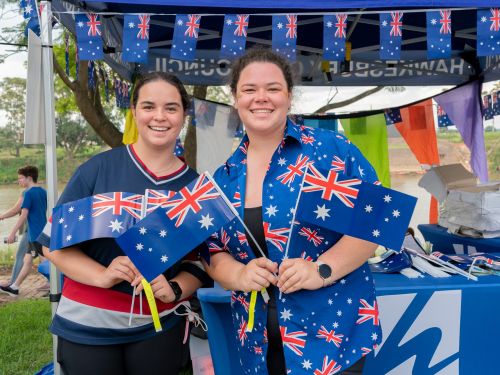 Nearly 8000 people came along to enjoy the free family fun, food and fireworks at the annual Australia Day event proudly hosted by Hawkesbury City Council on Thursday, 26 January 2023 on the banks of the Hawkesbury River at Governor Phillip Park, Windsor.
The heat and storms of the day gave way to an amazing event. The crowd enjoyed all that was on offer including the carnival rides, food trucks, face painting, live entertainment, roving entertainment including bouncing kangaroos and Mr Bubblehead and fireworks. The Primo specialty food stall donated all profits to the Hawkesbury State Emergency Service.
Special attractions included the huge Emergency Services display, the RAAF flyover, a best dressed Aussie competition. The inaugural Thong Throwing Competition was a huge success and will be back in 2024.
MC for the event Farmer Dave kept everything at a lively pace along with local musicians, before singer Prinnie Stevens captivated the crowds in lead up to the huge fireworks finale that lit up the sky against the backdrop of a spectacular lightning storm in the distance.
Hawkesbury City Mayor Sarah McMahon said it was the perfect way to mark Australia Day.
"After three years of fires, floods and lockdowns, it was so amazing to see so many smiling faces and the sea of red, white and blue, and a bit of green and gold, enjoying this special event," Mayor McMahon said.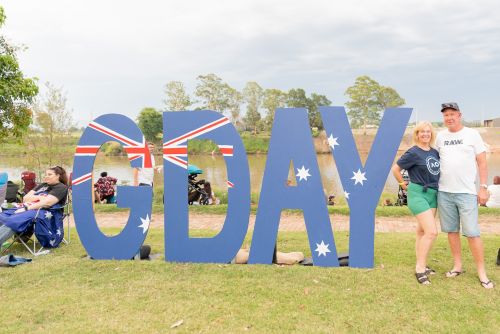 "The thong throwing contest was an absolute delight and I can't wait to see the winners come back next year to defend their titles.
"A special thank you to the emergency services crews for coming out and supporting the event. These heroes have been the backbone of our community and it was great for residents and visitors to come out, learn more about what they do and express their thanks personally."
Like and Follow Hawkesbury Events Facebook www.facebook.com/hawkesburyevents to see the photos from the Australia Day Awards, Australia Day Citizenship Ceremony and Australia Day on the Hawkesbury.